November 13th, 2011 9:34am - Posted By: Connie and Shari
The weather outside might be frightful, but as our beloved bus gets nearer and nearer to her big debut, we've been looking for some great SUMMER events to take her to.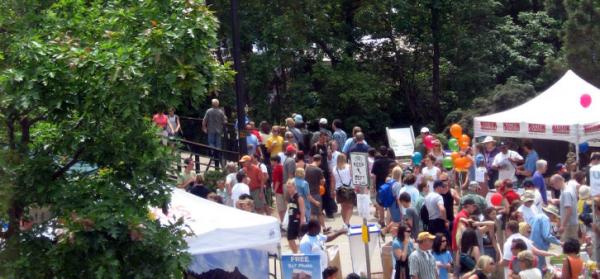 The Boulder Creek Festival, for one. Every year on Memorial Day weekend, Boulder kicks off the summer with three days of festivities featuring a large variety of events, activities, music and dancing, and of course - FOOD! This year will be the 25th anniversary of the festival, and we'd love to join in on the fun.
We've also been thinking about bringing the bus to Niwot's Rhythm on the Rails Summer Concert Series. Every Thursday evening, June through August, Whistle Stop Park in Niwot opens for live music, vendors, artisans, kid's activities and dancing! (And, let's not forget the beer/ wine/ margarita garden!) We think the crowd might also be up for some homemade soft serve ice cream and yogurt.
Will we see YOU there? Have you been to Rhythm on the Rails or Boulder Creek Festival? Would Go Purple Bus be a good addition there? Do you know of other great spring/ summer events in the greater Boulder area that would be a good match for an up-scale gourmet ice cream truck?
We're so glad you're coming along for the ride.

Posted in: None